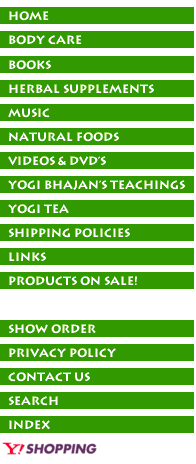 Sahej Peaceful Acceptance by Dev Suroop Kaur was inspired from deep love and respect for the vidiya, the study of knowledge, of Sikh Classical Raag Kirtan, as well as the receptivity and appreciation of this rich, devotional music style by people of many paths.

Relax into the warm embrace of this hypnotic presentation of four beautiful songs of the Sikh Gurus. Sung simply and sweetly in a classical raag kirtan style, Dev Suroop Kaur's sublimely healing and crystalline voice will transport you to the realm of your spirit. Accompanied by the rhythmic tones of table and the soaring voice of the violin, alto flute and clarinet, these compositions are a feast for the ears and heart.



Are you having any trouble finding the
products you're looking for?

Discounts available via phone orders only.
Please call in to ask about available discounts:
Siri Ram Singh: 877-753-5351
Email: sirirams@windstream.net
If you have any questions please
don't hesitate to call or email us!