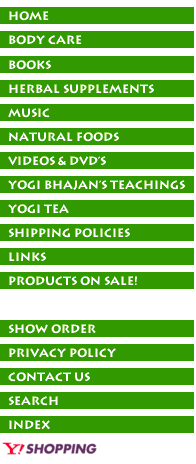 Created in 2012, this album includes kundalini yoga chants I have been chanting over the past 15 years in concerts, classes, and events. Finally recorded for you! Simple and soothing vocals with violin, fretless bass, acoustic guitar, cittern, and percussion.

1.From One Vibration 09:19
2.Ong Namo Guru Dev Namo 11:44
3.Ardaas Bhaee 07:40
4.Guru Guru Wahe Guru A Cappella 05:35
5.Sat Naam 07:06
6.Sat Narayan Wahe Guru 08:47
7.On This Day / Long Time Sun 04:06
8.Peace To All 03:34


Credits: Dev Suroop Kaur - Vocals & Keys Jon Gagan – Fretless Bass, Keys, & Percussion Mark Clark - Djembe, Dumbek, Udu, & Percussion Mata Mandir Singh - Acoustic Guitar & Cittern Matthew Vaughn - Violin & Viola Recorded, Mixed, and Mastered by Jon Gagan at The Electric Company, Santa Fe, New Mexico Produced and Arranged by Dev Suroop Kaur and Jon Gagan Cover photographs – Martine Trembley



Are you having any trouble finding the
products you're looking for?

Discounts available via phone orders only.
Please call in to ask about available discounts:
Siri Ram Singh: 877-753-5351
Email: sirirams@windstream.net
If you have any questions please
don't hesitate to call or email us!