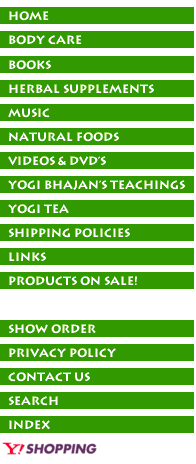 On her latest release, Anand, layers of keyboard, harmonium, tabla, violin, sarod, bass and the dancing flute of Manose create an incredible landscape behind Snatam's ethereal vocals. This album carries a mesage of profound bliss and joy.

"Anand is the state of bliss that comes when every word that you speak and action you take supports the light and journey of your soul. " - Snatam Kaur

Track List:

1) Guru Ram Das Raakho Saranaa-ee

2) Paramaysareh (Transcendent Lord)

3) Jap Man Sat Nam

4) Anand (Bliss)

5)Ek Ong Kar Sat Nam

6) Kabir's Song

7) Mul Mantra



Are you having any trouble finding the
products you're looking for?

Discounts available via phone orders only.
Please call in to ask about available discounts:
Siri Ram Singh: 877-753-5351
Email: sirirams@windstream.net
If you have any questions please
don't hesitate to call or email us!