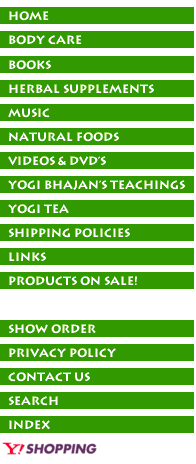 Guru Singh m.s.s., is a yogi, teacher, writer, composer-musician, shaman, ordained minister, healer, and most importantly as he says "a family man", living in Los Angeles and sometimes in India, London and New Mexico. Living with his wife and their two children, his life exemplifies a delicate and vital balance; honoring family and personal commitments while maintaining his spiritual dedication to working with the people of this world.

As a writer and musician, he has several projects under construction. He is been the subject of many articles, both in the US and Europe; voted "Best Guru" by Los Angeles Magazine and featured in the current book Lives Charmed, by Linda Sivertsen - Guru Singh reaches throughout the world.


Are you having any trouble finding the
products you're looking for?

Discounts available via phone orders only.
Please call in to ask about available discounts:
Siri Ram Singh: 877-753-5351
Email: sirirams@windstream.net
If you have any questions please
don't hesitate to call or email us!