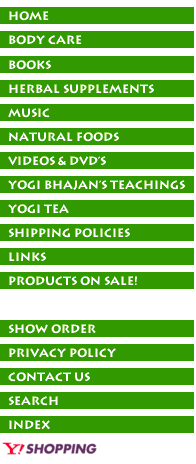 ORGANIC NO ADDED SUGAR VEGAN MADE IN USA GLUTEN FREE 100% RAW FAIR TRADE PASS FOR KIDS
Forget energy bars. These are vitality bars! All RAW, all organic, these delicious snacks pack a delicious flavor explosion into each nutrient-rich mouthful! Sweetened with agave, this is one snack that won't give you the post-sugar blues. To top off your vitality meter, we add a natural blend of food-derived vitamins, minerals, enzymes and flavonoids - proven to be more absorbable than the synthetic stuff most people add to their bars. So enjoy every bite of these unique snacks. It's more than health food - it's Essential Living Food.


Are you having any trouble finding the
products you're looking for?

Discounts available via phone orders only.
Please call in to ask about available discounts:
Siri Ram Singh: 877-753-5351
Email: sirirams@windstream.net
If you have any questions please
don't hesitate to call or email us!